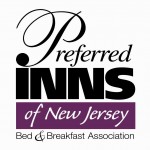 Our state bed & breakfast association, Preferred Inns of New Jersey, prints an annual guide featuring all participating B&B's.  On the Welcome page they explain they require each Inn to meet professional guidelines and pass thorough inspections. They also list suggestions for a first time guests at a B&B.  Since we are next to Mountain SWISS Creek Ski & Waterpark and very near Crystal Springs Resort we have many first time B&B guests that choose to stay with us rather than the higher priced hotels at the resorts. I have always thought this list was a great idea and I am excited to share it:
Communicate your special needs to the Innkeepers, i.e., dietary, allergies, etc.
Ask if the Innkeeper has pets or if guests may have cheap NFL jerseys pets and children
Ask about check-in and check-out times and please communicate if your expected arrival time changes Our dramatically.
Most B&B's are owner wholesale MLB jerseys operated and do not maintain a 24 hour desk
Ask if there are late arrival procedures
Please do 291-22-00 ask about the following:

Cancellation policies
Smoking policies
Amenities; Robes, hair dryers, air conditioning, Welkom etc.
Emergency contact procedures
Guest common areas
Breakfast procedures; serving times, menus, etc.
Things to do in the area and area wholesale NBA jerseys restaurants
Most of this information is available on each B&B's website so please take the time to read all the information they have provided.  Innkeepers are eager to make your stay enjoyable and memorable so let them know if this is your first time at a B&B.
Here is the link to get a free copy of cheap Cleveland Browns jerseys the Preferred Inns of New Jersey 2012/2013 directory.